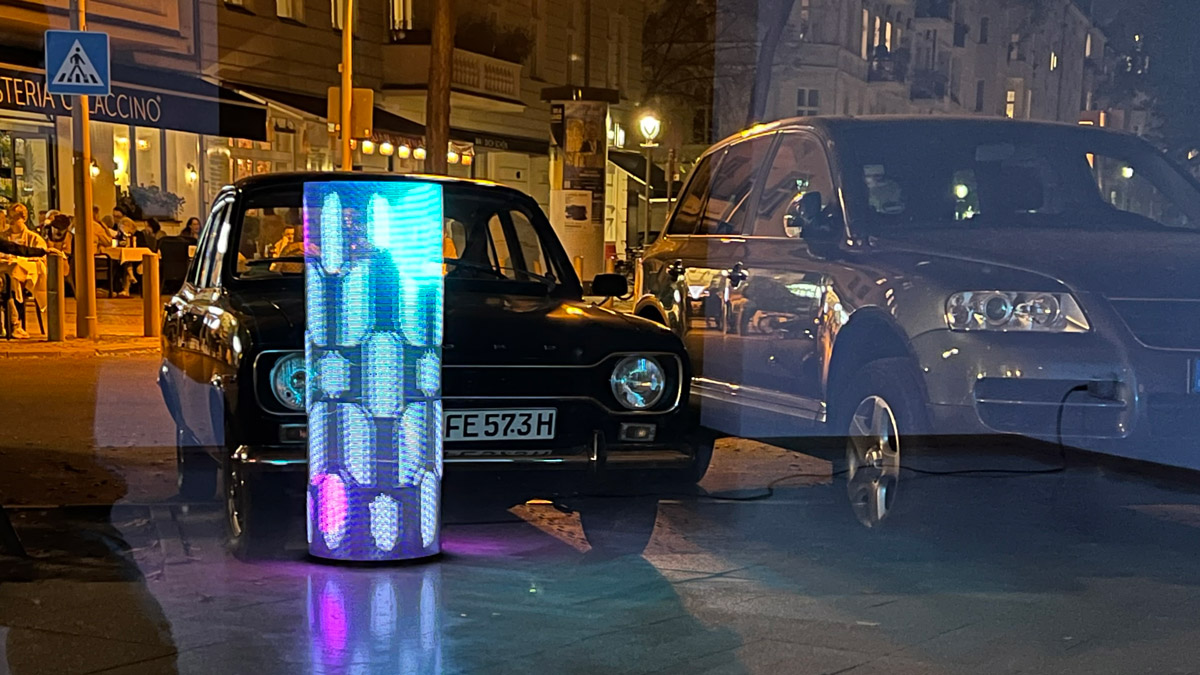 (english version below)
dreamDreamachine
Mit seiner dreamDreamachine transformiert Kerim Seiler die Dreamachine von Brion Gysin aus dem Jahr 1961 ins digitale Zeitalter. Diese bestand aus einem mit Öffnungen versehenen Papp-Zylinder auf einem rotierenden Plattenteller. Im Inneren eine leuchtende Glühbirne. Schließt man die Augen, erregt das Flackern die Sehnerven, so dass man Bilder in seinem Inneren sieht und das Bewusstsein sich erweitern kann.
Für seine dreamDreamachine komponierte Seiler ein digitales Poem mit tausenden von Leuchtdioden, die das Muster von Gysins Maschine aufnehmen. Obwohl Seilers dreamDreamachine nur auf einer zweidimensionalen Fläche leuchtet, scheint aus ihrem Inneren Licht zu dringen. So schafft Seiler aus einer Fläche einen virtuellen Raum. Farbige Kreise schweben auf und ab. Mühelos scheinen sie die Zylinderwand zu durchdringen. Endlos verändern sich ihre Töne in triadischen Variationen aus Rot, Grün und Blau. Seilers dreamDreamachine lädt uns ein, in einen imaginären Raum zu tauchen und uns selbst zu vergessen. Wer sich darauf einlässt, den kann sie aus dem Alltag reißen und verführen – auf der Suche nach dem Verlieren von Zeit.
dreamDreamachine
With his dreamDreamachine, Kerim Seiler transposes Brion Gysin's Dreamachine from 1961 into the digital now. The Dreamachine consisted of a black cardboard cylinder with cut out patterns placed on a rotating turntable equipped with a static light-bulb glowing in its center. With one's eyes closed, the flickering lights of the machine stimulated the optic nerves, allowing the viewer to "see" images and expanding their consciousness.
For the dreamDreamachine, Seiler composed a digital poem with thousands of light-emitting diodes that emulate the pattern of Gysin's machine. Although Seiler's dreamDreamachine only glows on a two-dimensional surface, light seems to emanate from within it, creating a virtual space. Colored circles float up and down. Effortlessly, they seem to penetrate the cylinders surface. Their hues change in triadic variations of red, green and blue. Seiler's dreamDreamachine invites us to dive into an imaginary space and forget ourselves. If you allow yourself to be drawn into it, it can tear you out of everyday life – in search of lost time.