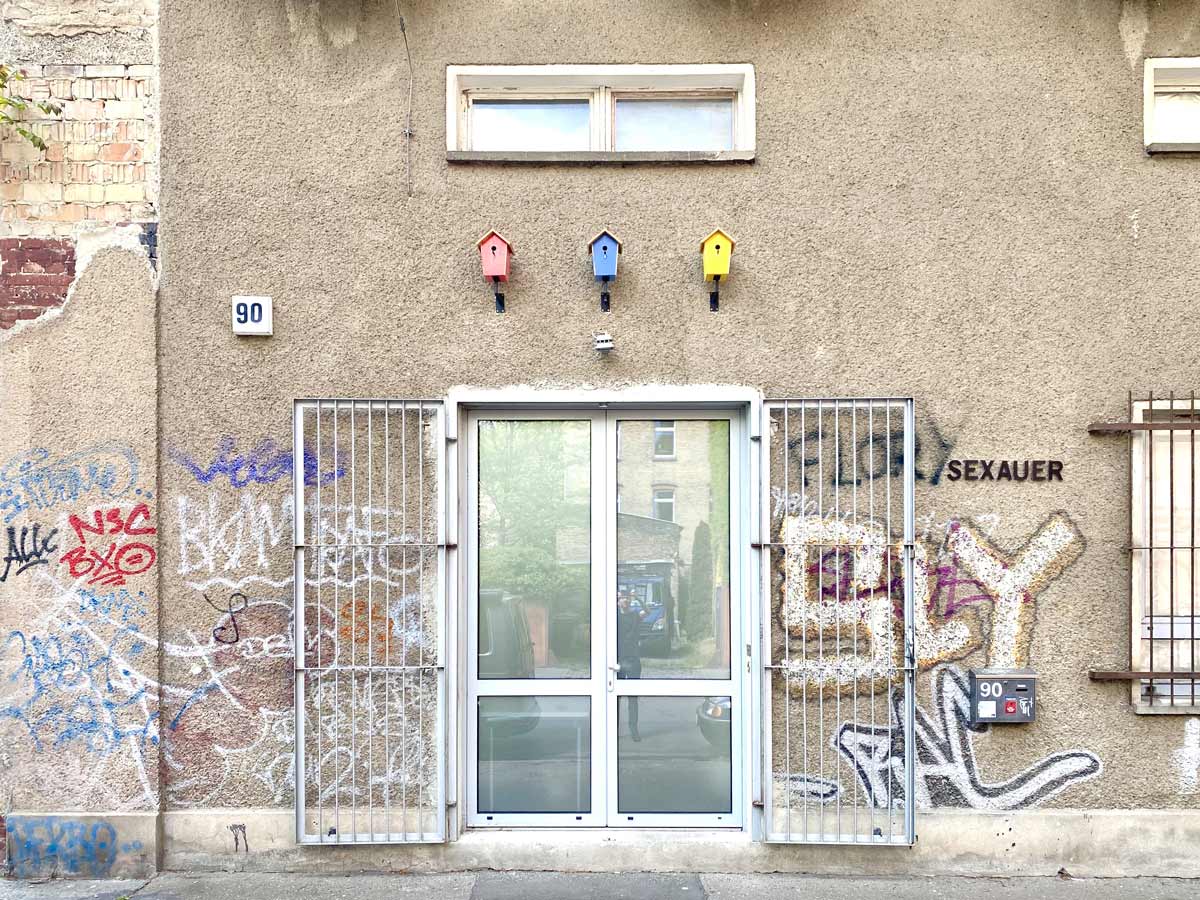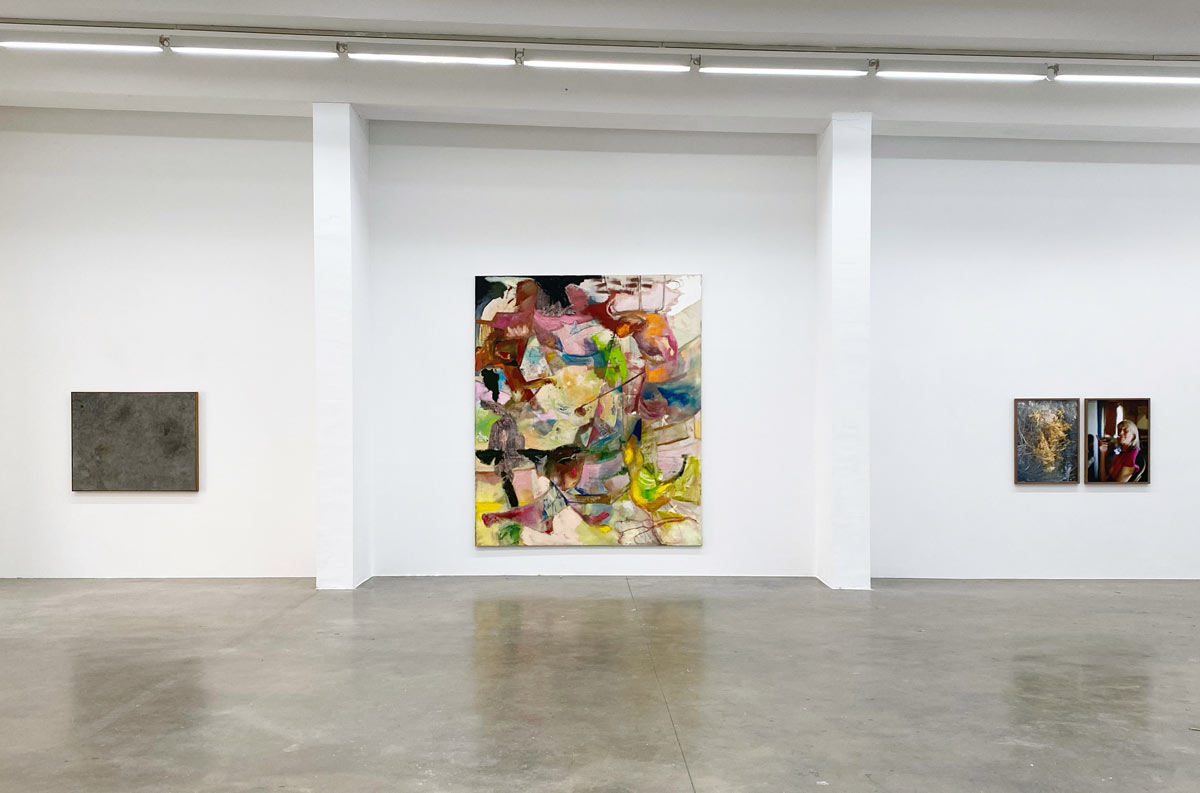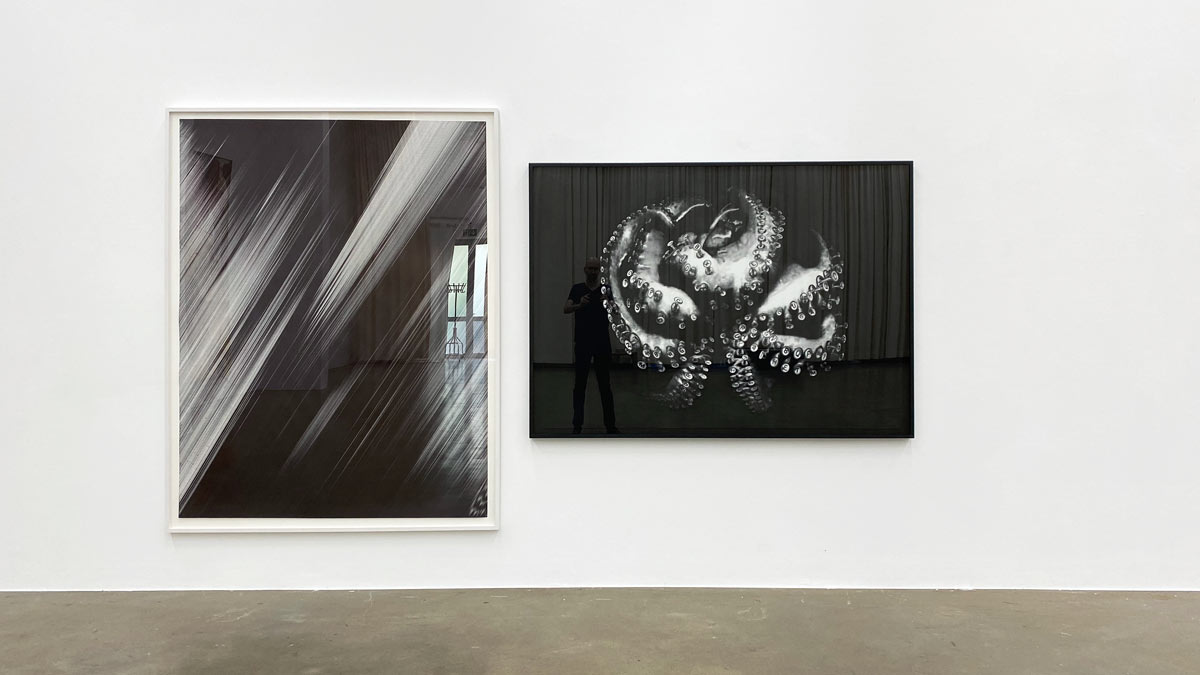 (english version below)
Schon immer gab es den Plan, einmal eine Gruppenausstellung mit den Künstlerinnen und Künstlern der Galerie zu machen. Im laufenden Betrieb sind fast immer Einzelausstellungen geplant oder auch Gruppenausstellungen mit konkreten Themen. Auch für das Gallery Weekend war eine Einzelausstellung mit neuen Arbeiten von Caroline Kryzecki vorgesehen. Diese Ausstellung wird nun nach der Sommerpause stattfinden.
Durch den Lockdown ergab sich die Gelegenheit, einmal Werke aller Künstler der Galerie gemeinsam in einer Ausstellung zu zeigen. Als Galerist wird man oft nach dem Stil der Galerie gefragt, beziehungsweise, welche Kunst man ausstelle. Diese Frage ist nicht leicht zu beantworten, weil die Künstler mit den verschiedensten Medien arbeiten: Malerei, Zeichnung, Photographie, Skulptur, Installation, Video, Performance. Auch haben sie sehr unterschiedliche Persönlichkeiten und arbeiten mit ihren je eigenen Strategien. Die Ausstellung COME TOGETHER ermöglicht es nun erstmals, die Arbeiten aller Künstler von SEXAUER in der Ausstellungshalle zu betrachten und Gemeinsamkeiten und Unterschiede zu entdecken.
COME TOGETHER zeigt Gemälde von Futo Akiyoshi, Philip Grözinger und Alexander Iskin, Zeichnungen von Caroline Kryzecki und Thomas Feuerstein, fotografische Arbeiten von Isabelle Graeff und Ornella Fieres, Holzarbeiten von Jay Gard sowie eine Arbeit von Jeewi Lee, die Bild, Skulptur und Ready Made in Einem ist.
COME TOGETHER misst die Bandbreite der jeweiligen Medien aus, gleichsam deren Pole. Da sind analoge Fotografien von Isabelle Graeff, klassische C-Prints ohne jede digitale Bearbeitung, die einfühlsam und respektvoll Menschen und Pflanzen portraitieren; auf der anderen Seite manipulierte und rückgerechnete Fourier-Transformationen von Ornella Fieres, bei denen historische Fotografien mit digitalen Mitteln verändert werden. Während Isabelle Graeff uns einen bestimmten Blick auf die Welt anbietet, greift Ornella Fieres in das Abbild der Welt ein und schafft eine "neue Wirklichkeit".
Da ist eine große schwarze Kugelschreiberzeichnung von Caroline Kryzecki mit tausenden Linien, die auf den ersten Blick aussieht wie computergeneriert und auf der anderen Seite eine figurative Kohlezeichnung von Thomas Feuerstein, welche von den meisten Betrachtern zunächst für eine Schwarz-Weiß-Photographie gehalten wird. Während die Kugelschreiberzeichnung eher selbstreferentiell ist und eine Schule der Wahrnehmung, verweist die Kohlezeichnung auf prozessuale Skulpturen, in denen der Künstler die Kohle für die Zeichnung herstellt, sowie auf naturwissenschaftliche und gesellschaftliche Phänomene.
Während ein großes Ölgemälde von Iskin im Rahmen einer aufwendigen Performance entstand, machen minimalistische Ölbilder von Akiyoshi die Malerei selbst zum Thema. Und während die Gemälde von Akiyoshi mit höchster Akkuratesse gemacht sind, malte Philip Grözinger mit großer malerischer Freiheit nahe der Bad-Painting-Tradition Buchcover. Eines davon zeigt den legendären Titel von Karl Kraus, der auch ein aktueller Ausstellungstitel in Pandämie-Zeiten hätte sein können: Die letzten Tage der Menschheit.
Während die Farbkreise aus Holz von Jay Gard Farbanalysen von Bildern aus der Kunstgeschichte sind und dabei Spuren ihres Herstellungsprozesses zeigen, verweist Jeewi Lee auf ihre biografischen Spuren, wenn sie den Fußboden aus ihrem Atelier herausgeschnitten, gerahmt und an die Wand gebracht hat. Dabei verweist sie auf ihre eigene Arbeit. Wie immer ist bei Jeewi Lee aus einem robusten Arbeitsprozess eine subtile und zarte Arbeit entstanden.
Alle ausgestellten Arbeiten haben gemeinsam, dass sie ihren Herstellungsprozess reflektieren, die Wahrnehmung des Betrachters schärfen, den Blick in die äußere und innere Welt erweitern und fokussieren und außerdem anregen zum weiter Denken, Wahrnehmen, Staunen und Fragen. Und trotz der unterschiedlichsten Wege, auf denen dieses Ziel erreicht werden soll, scheint eines zweifelsfrei: they all COME TOGETHER.
EN
It has always been my plan to show a group exhibition exclusively featuring the artists of the gallery. During the running of the gallery, there are almost always solo exhibitions planned, or group exhibitions with specific themes. A solo exhibition with new works by Caroline Kryzecki was originally planned for this year's Gallery Weekend, which will now take place after the summer break.
Due to the lockdown, the opportunity arose to show works of all artists of the gallery together in one exhibition. As a gallery owner you are often asked about the style of the gallery, or rather, what kind of art you exhibit. This question is not easy to answer, because the artists work with different media: painting, drawing, photography, sculpture, installation, video, performance. They also have very different personalities and work with their own strategies. The exhibition COME TOGETHER now makes it possible for the first time to view the works of all the artists of SEXAUER in the exhibition hall and to discover similarities and differences.
COME TOGETHER shows paintings by Futo Akiyoshi, Philip Grözinger, and Alexander Iskin, drawings by Caroline Kryzecki and Thomas Feuerstein, photographic works by Isabelle Graeff and Ornella Fieres, woodwork by Jay Gard, and a work by Jeewi Lee that is picture, sculpture, and ready made in one.
COME TOGETHER measures the bandwidth of the respective media, their poles, so to speak. There are analog photographs by Isabelle Graeff, classic c-prints without any digital processing, which portray people and plants with empathy and respect; on the other hand, there are manipulated and recalculated Fourier transformations by Ornella Fieres, in which historical photographs are altered by digital means. While Isabelle Graeff offers us a certain view of the world, Ornella Fieres intervenes in the image of the world and creates a "new reality".
There is a large black ballpoint pen drawing by Caroline Kryzecki with thousands of lines that at first glance looks computer-generated and on the other side a figurative charcoal drawing by Thomas Feuerstein, which most viewers initially think of as a black-and-white photograph. While the ballpoint pen drawing is rather self-referential and a school of perception, the charcoal drawing refers to processual sculptures in which the artist produces the charcoal for the drawing, as well as to scientific and social phenomena.
While a large oil painting by Iskin was created in the context of an elaborate performance, minimalist oil paintings by Akiyoshi have the medium painting itself as the subject. And while Akiyoshi's paintings are made with the utmost accuracy, Philip Grözinger painted book covers with great painterly freedom close to the bad-painting tradition. One of them shows the legendary title of Karl Kraus, which could also have been a current exhibition title in pandemic times: The last days of mankind.
While Jay Gard's wooden color circles are color analyses of pictures from art history, showing traces of their production process, Jeewi Lee refers to her biographical traces when she cut out the floor from her studio, framed it, and put it on the wall. In doing so, she refers to her own work. As always, Jeewi Lee has turned a robust working process into a subtle and delicate work.
All exhibited works have in common that they reflect their production process, sharpen the viewer's perception, expand and focus the view into the outer and inner world and also stimulate further thinking, perception, amazement and questions. And despite the different ways in which this goal is to be achieved, one thing seems beyond doubt: they all COME TOGETHER.