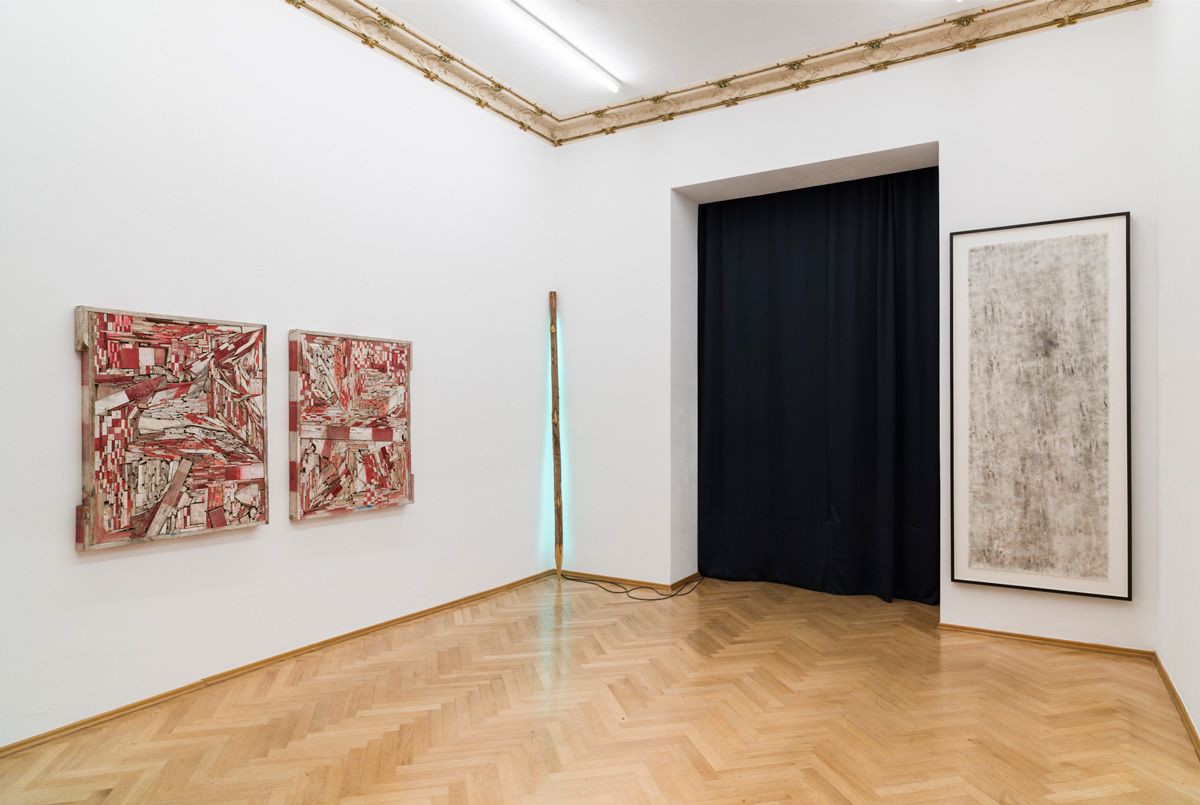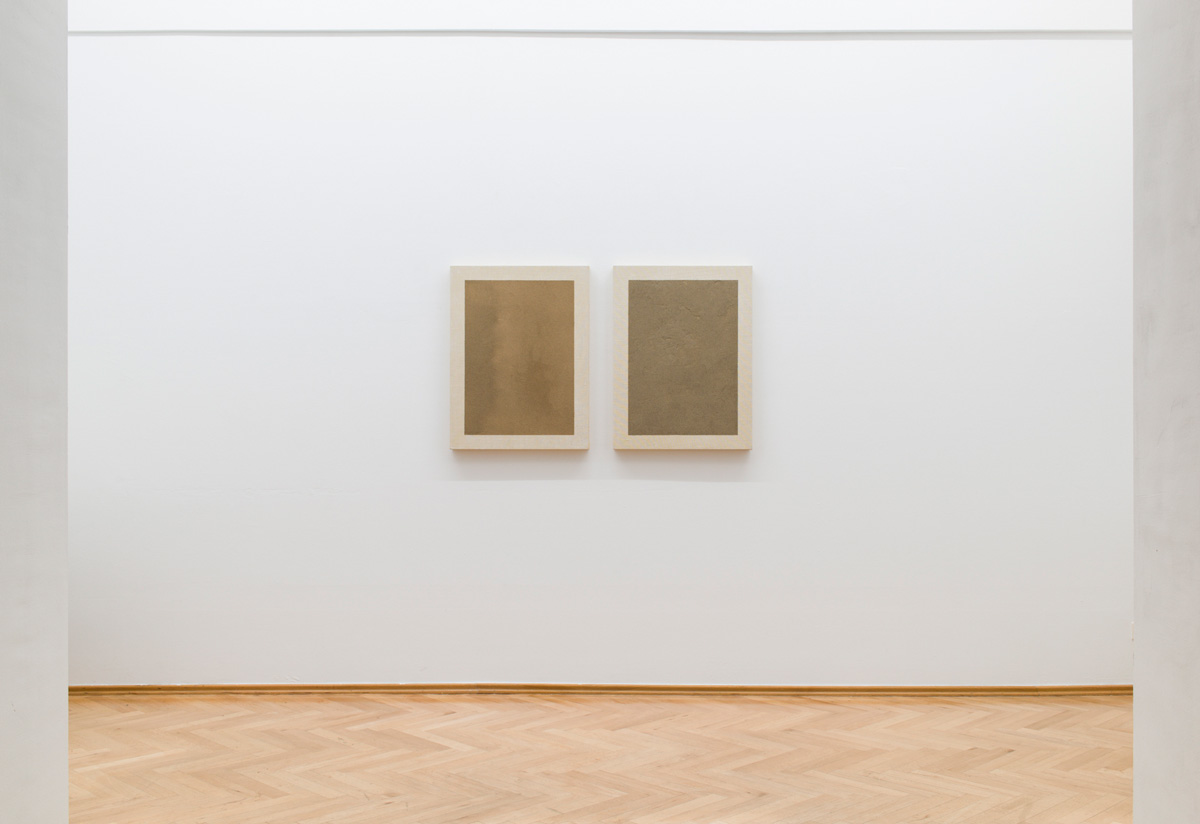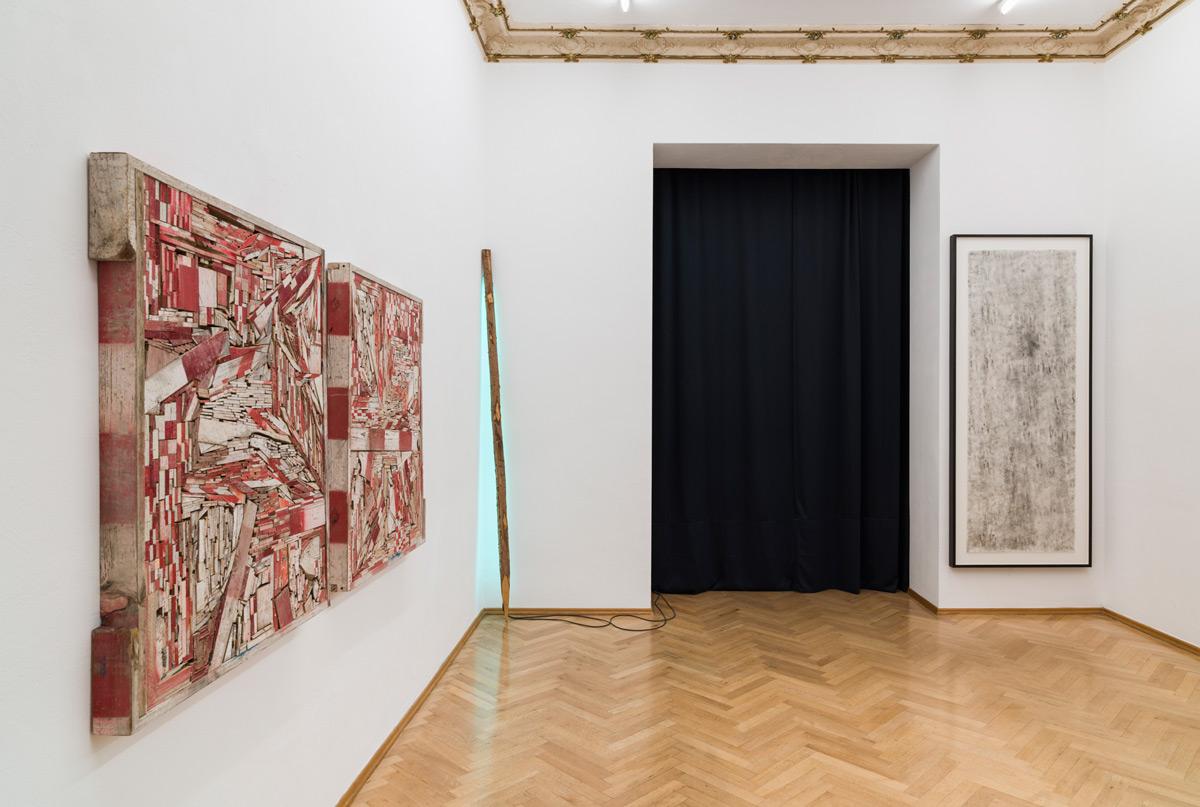 (englisch version below)
Zwei Holzmosaike aus Baustellen-Absperrlatten aus dem südlich von Lissabon gelegenen Fonte da Telha von Hannah Parr (links), ein aufgeschlitzter Baumstamm mit einer eingebauten Neonröhre von Kerim Seiler, ein Tintenabdruck eines Baumstammes aus dem Harz mit Spuren von Borkenkäfern auf Hanji Papier (Hochformat, rechts neben dem Vorhang) sowie Farbfeld-Bilder mit Sand von der Westküste Koreas auf Hanfstoff (im rechten Raumabschnitt), beides von Jeewi Lee.
Die Arbeiten reflektieren das Verhältnis vom Menschen zur Natur und das Wesen der Abstraktion auf künstlerischer und tatsächlicher Ebene. Abstraktion leitet sich von Abziehen, Entfernen, Trennen ab. Und tatsächlich trennt der Mensch die Zusammenhänge der Natur und entfernt sich von dieser, obwohl er doch Teil von ihr ist. Abstraktion hat ein Janusgesicht: auf künstlerischer Ebene eine Suche nach dem Wesentlichen, auf tatsächlicher Ebene eher dessen Zerstörung.
english:
Two wooden mosaics made of barrier slats taken from construction sites around Fonte da Telha located south of Lisbon by Hannah Parr (left), a slit tree trunk with a built-in neon tube by Kerim Seiler, an ink print of a tree trunk from Harz with traces of bark beetles on Hanji paper (right of the curtain), and colour field paintings with sand from the west coast of Korea on hemp fabric (in the right section of the showroom), both by Jeewi Lee.
The works reflect the relationship between humans and nature and the nature of abstraction on an artistic and fundamental level. Abstraction is derived from subtracting, removing, and separating. And indeed, humans unravel the interconnections of nature yet simultaneously distance themselves from it, despite being part of it. Abstraction bears its Janus-face: On the one side, artistically searching for the essential, and on the other, the actuality is about destruction.